Working at Jinding
When you work for Jinding, your journey will be aligned to our five core values which is at the heart of what we do and how we do it; Integrity, Execution, Compliance, Quality and Entrepreneurship.
With a commitment to your development, we seek people who know the importance of the pursuit of excellence, going the extra mile to ensure a quality outcome and maintain a sense of compliance & obligation in everything you do.
When you work with us, you'll become part of a dynamic team of professionals who are unwavering in their approach to demonstrate and deliver consistent and forward-thinking outcomes for not only the business, but their individual career goals.
We are collaborative and the ultimate fusion of cultures from different parts of the world. Embracing all these elements makes your journey diverse whilst exposing you to all facets of our operation to ensure your success.
Our Values
Our Values help us navigate the way we do business.
They sum up what our business stands for and what makes us special.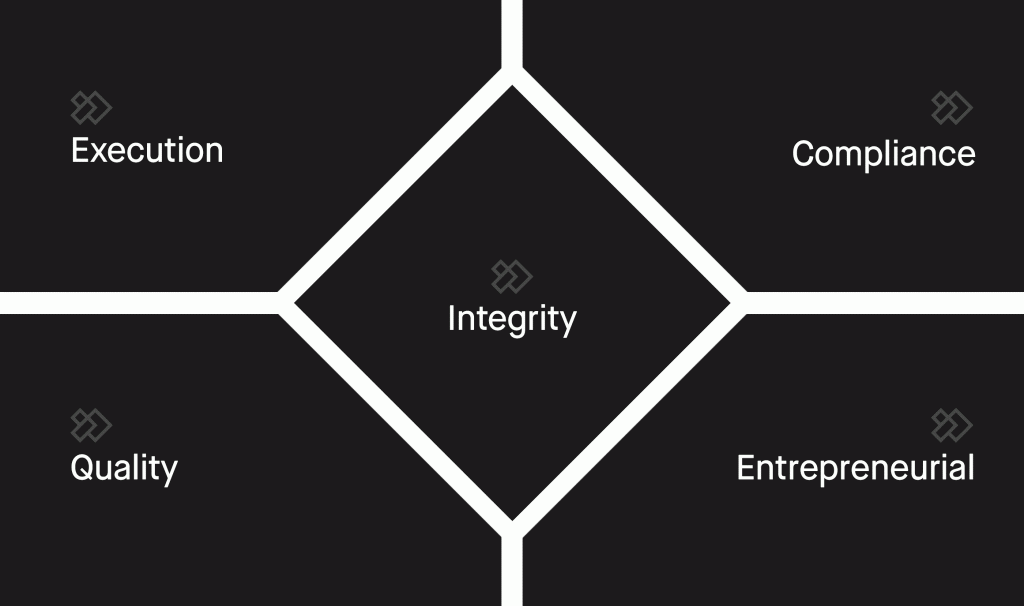 Integrity
Authentic
Honest
Consistent
Responsible
Truthfulness
Accuracy
Humility
Execution
Promises delivered
Implementation
Accountability
Collaborative Team
Learn from mistakes
Sincere effort
Discipline
Delivery on time
Getting it done with a sense of urgency
Compliance
Legislative & Regulatory application
Transparent & thorough
Doing it the right way
Foundation for growth and future
Trusted business partner
Quality
Attention to detail
Exceeding expectations
Greater perfection
Developing leaders
Best in class
Excellence
High calibre
Nurturing high potential
Entrepreneurial
Exploring & optimising new opportunities
Pioneering
Innovation
Anticipating & adapting to change
Building a legacy
Foresight
Values Awards
We reward staff who exemplify our values and deliver outstanding performance.
Getting Together
We instill a culture of bonding and celebrating together.
Additional Benefits
We provide additional benefits improving the growth, flexibility and health of our staff.
Values Awards
Rewarding performance and living our values.
We reward team members who exemplify our values interwoven with their outstanding performance.
Recipients of the 'Values Award' receive additional annual leave as recognition of their success.
Getting Together
We love to celebrate and stay together.
On Monday mornings we provide a catered breakfast for our team to get the week started,
By Friday, we celebrate end of the week with our 'Sky Bar' opening at 4pm.
We recognise and observe all cultural and auspicious events with traditional celebrations and fusing our cultures with education and participation.
We celebrate birthdays, anniversaries and promotions.
We host major team celebrations every year from end of financial year, company anniversary & end of year events.
Team building is important to us – harnessing all the skills we have to apply them to challenging and thought-provoking entertainment.
Additional Benefits
Improving the career growth, flexibility and health of our staff.
Annual flu shots
Discounted parking
Flexible working arrangements and home office equipment provided
Internal & external training programs
Formalised career development plans
Employee Assistance Program
The health and wellbeing of our people is very important to us. We know that sometimes life can be challenging whether you're at home or at work.
To ensure our people have adequate support, we have partnered with Assure Programs to offer all employees and their families access to an extensive network of experienced psychologists and specialists.
To view our current job roles, please view below.